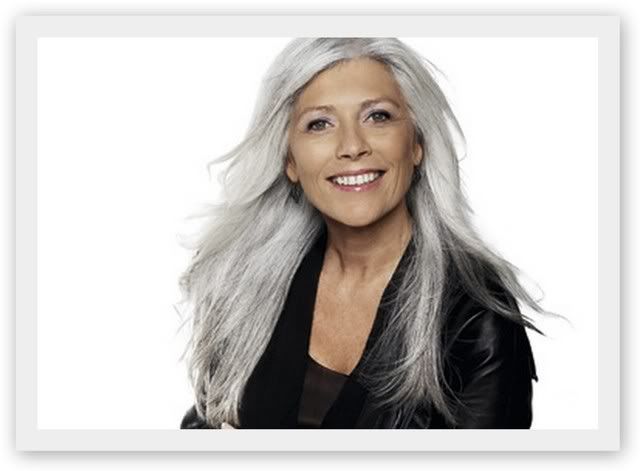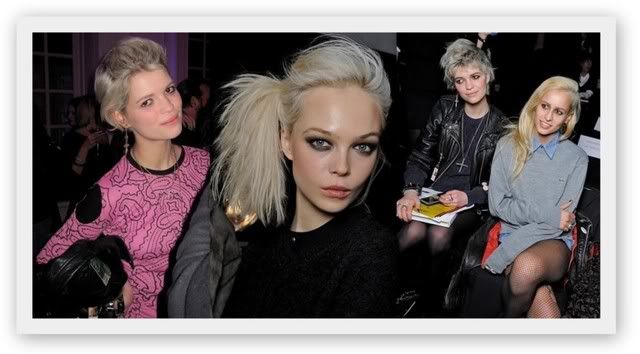 Politiken lavede for noget tid siden en læserundersøgelse som viste, at langt de fleste kvinder farver håret lige så snart de første grå hår pibler frem. For mændenes vedkommende er dette endnu lidt af et særsyn, idet en del mænd (

og kvinder

) faktisk finder det en anelse små-kikset, hvis en mand farver sit hår. Det er ikke helt så pinligt som en toupé, men en del synes stadig ikke, at det er noget for en mand at gå op i, og m
ens majoriteten af begge køn fortsat forbinder grå hår hos kvinder med afblomstring, betragter mange de selvsamme alderdoms-tegn hos mænd som tegn på større visdom og erfaring. Dog er der en spirende og spændende tendens til, at især højtuddannede kvinder undlader at farve håret, idet de gerne vil signalere, at de føler sig hævet over den slags forfængelighedsudtryk. Det er voksne kvinder, som gerne vil vise, at de ikke ligger under for ungdomsidealer og at de som kvinder og personer har mere at byde på, end bare et kønt og ungdommeligt udseende.
Omvendt kan man så håbe på, at det bliver mindre tabuiseret, hvis man som mand gerne vil bevare en ungdommelig hårpragt og derfor vælger at farve det. Personligt synes jeg det er en blindgyde, hvis mænd konstant positioneres som enten ligeglade med deres udseende eller som metro-seksuelle (

latterligt udtryk i øvrigt...

). Skal mænd måske ikke have lov til at være forfængelige, eller? Come on, vi ved jo, at I er forfængelige - at I tjekker jeres hår i hvert et spejl I passerer og fred være med det!
Ligestilling har vel mange forskellige udtryk - ligeløn, lige muligheder for både hetero-,
bi-, trans- og homoseksuelle, lige muligheder for kvinder og mænd af enhver farve og størrelse, lige uddannelsesmuligheder etc. En common sense opfattelse af ligestilling knytter sig som regel til en grundtanke om, at vi alle bør have lige muligheder for at udfolde os - en form for frihed til selv at definere hvem man er, hvad man kan og hvad man har lyst til.
Ligestilling er dog også i mine øjne, at man ikke nødvendigvist skal leve op til nogle bestemte idealer bare fordi man er kvinde/mand, men at man selv definerer sit udtryk og sin kvindelighed/ maskulinitet. Hvor nogle kvinder eksempelvist stræber efter et højpoleret feminint udtryk, foretrækker andre bukser, flade sko og et naturligt look. Al respekt for det. Vi er forskellige. Og ofte ændrer vi jo stil og udtryk mange gange i løbet af et livsforløb.
Lige nu er gråt hår (

farvet vel at mærke...)

the shit hos mangt en fashionista. Selvom gråt hår rent faktisk er smart i øjeblikket, tror jeg nu næppe, at det
har noget at gøre med hverken ligestilling eller det at "hvile i sin alder". Moden er trods alt en troløs størrelse, som skifter udtryk fra sæson til sæson og hvor man skal være tanned den ene sæson, er det hvideste hvide sagen sæsonen efter. Omvendt afspejler moden vel ofte noget samfundsmæssigt og derfor kan den grå tendens med lidt god vilje ses som et eksempel på, at
både moden og kvindeligheden/ maskuliniteten er i konstant bevægelse. Og at etablerede sandheder om vores skønhedsidealer kan udfordres. Og måske rykkes ved bare en lille smule. Den danske frisør,
Gun-Britt, der har haft den mest fantastiske sølvgrå manke i en evighed - lææænge, før det blev hot, er i den forbindelse noget af en foregangskvinde!