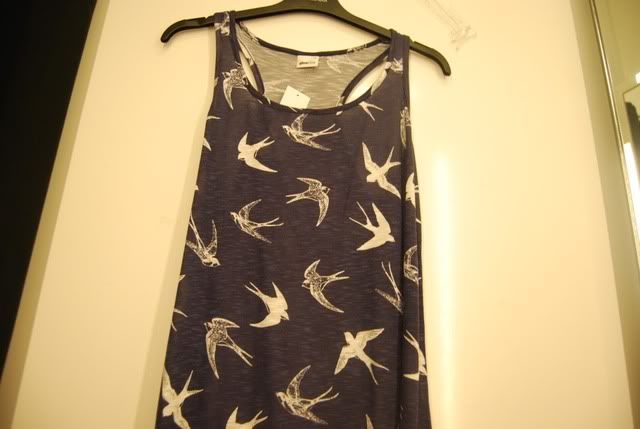 Jeg er sikker på, at der nok skulle være mindst et par stykker derude, som er parat til at gribe det nærmeste luftgevær og plaffe en svale eller to ned, men jeg KAN altså godt lide de skide fugle, og selvom det ikke nytter noget at sige det nu (for nu er det jo ligesom TENDENSEN, så nu SKAL vi jo allesammen synes at det er helt fantastisk) så har jeg altså altid været glad for mønstre med ugler, svaler, katte, heste - you name it - alt med dyr, jeg kommer jo trods alt fra landet af !
Hvad der er lidt mere irriterende, er det forhold, at min eneste fejltagelse nogensinde - den, der sidder på højre arm og overhovedet ikke kan viskes ud eller vaskes af og som heller ikke er særlig diskret - den ligner desværre lidt de førnævnte hippe fugle. Det får mig til at huske en lignende "bommert" fra Gym., hvor en fyr skulle have sin første tusch, som han selv var så kreativ at tegne. Problemet var bare, at det lignede en blanding af Batman og Wu Tang Clan -symbolerne. Hvilket ikke var meningen. Men vi sagde alligevel allesammen at den var fed, selvom vi tænkte, "jamen, er det ikke....?"
Sådan kan man komme så galt afsted, men i mit tilfælde kan jeg altså ikke gøre for, at et modefirma 13 år senere vælger at lave nogle mønstre med nogle svaler :) Men om et halvt år, så er jeg sikker på, at jeg er endnu mere træt af den pga. al hypen nu, men nægter altså stadig at give 10.000 kr for at få den fjernet. Og så ligner det jo heldigvist ikke på en prik. Måske det i virkeligheden kun er mig selv der forbinder den med Miu Miu.
Nå, det indlægget egentlig handlede om, er at de har fået nyt svale-gear i GT. Jeg brød mig ikke så meget om stoffet på den lyserøde, men den blå her er faktisk rigtig lækker og blød i stoffet. Den koster 99,- og i Århus i går havde de stadig en del tilbage.
De havde også nogle andre fine ting som den beige trøje, der desværre sad lidt som en sæk rundt om en ordentlig røvfuld kartofler. Endnu et af de stykker tøj, som bare fungerer bedre, hvis man havde været 175. Mindst.