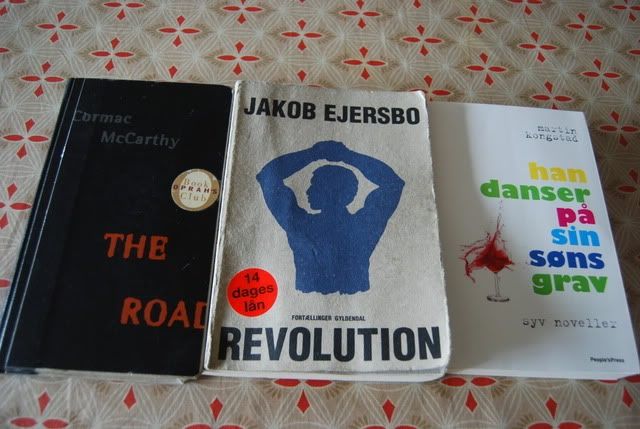 Det gode ved at have sommerferie er den ekstra tid til at læse skønlitteratur, som ellers ofte for mit vedkommende bliver nedprioriteret i de lange perioder, hvor det mest er studierelevant litteratur man sidder bøjet over. Læste de her tre, meget forskellige bøger her i sommerferien. Jeg kan ikke fremhæve en fremfor en anden, men blot sige, at de alle tre er meget læseværdige på hver deres måde. The Road" var rigtig god, fantastisk skrevet, men også lidt dyster at komme igennem. Man bliver ikke nødvendigvist i godt humør af at læse den, men både bogen og filmen er efter min mening af høj klasse. Nu skal jeg bare have fat på Ejersbos "Eksil" og "Liberty". Glæder mig helt vildt, den bog slugte jeg faktisk på 2-3 dage! Og det er ikke tit, at jeg har det sådan med en bog!
Hvad angår den sidste bog "Han danser på sin søns grav", så fik jeg den egentlig i julegave og den har derfor ligget nogle måneder, før jeg fik taget fat på den. Læste på et tidspunkt en (Københavner)journalist fremhæve bogen som en form for efterskrift for hele deres generation og som meget genkendelig, idet man jo, som københavner af den bedre klasse, kan nikke genkendende til bogens temaer. For mit eget (og meget vestjydske) vedkommende er bogen, dens personer og deres livsførsel dog ikke særligt genkendelig. Er man ikke vokset op med skolegang på Bernadotteskolen og med sommerferier i Tisvildeleje, hvilket jeg langtfra er, så er bogen snarere et kig ind i en meget
eksotisk
og fremmedartet verden, som man normalt ikke tilbydes et så harsk indblik i. Elsker den selvironiske måde han beskriver sit, i bund og grund, eget segment på, og så er det jo bare morsomt, at man i min alder kan huske, da han havde sin sex-brevkasse i ungdomsbladet Mix.... !