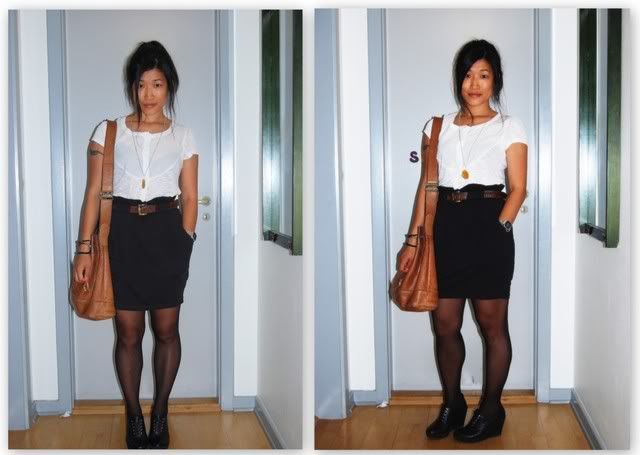 Jeg er blevet tagget af
Camilla
i en blog-leg og jeg siger selvfølgelig tak for det! Nu er det jo aldrig en nem sag at skulle nævne yndlings-dit-og-dat, når man er i min alder og derfor har set og hørt en del efterhånden, ahem...! Det var vist nemmere, dengang man var 10 år og vidste præcist hvad der var yndlingsfarven, hvem der var yndlingsveninden og hvad ens yndlingsmad var. Ikke så meget vægelsind. Bare en 10. årigs begrænsede oplevelsesverden.
Og hvorfor spørger man egentlig aldrig
voksne
, hvad der er deres livret, hvilket jo kan være en ganske naturlig og seriøst ment indgangsspørgsmål for en 10. årig... Næh, når vi mødes spørger vi hinanden om
vigtige, voksne og alvorlige sager,
såsom hvor langt man er i sin uddannelse (gab...), hvor man gerne vil arbejde (mere gab) og ikke mindst hvor man gerne vil bo og om det skal være ejer-eller lejebolig (endnu mere gaab...) Forestil dig, at man i stedet for begyndte at spørge ind til den voksnes yndlingsmad og yndlingsfarver. Og forestil dig så, at den anden voksne ret hurtigt ville skride fra en, fordi de ville synes, at man er for underlig. Voksne er altså indimellem lidt kedelige, så hurra for denne blogleg, som trods mit seriøse og halv-voksne sekretær-outfit i dag, fik mig til at sende venlige tanker tilbage til dengang, hvor man var 10 år og alting bare var lidt mindre kompliceret!
Navn:
Charlotte
Blog
: nutellah.blogspot.com
Kælenavn:
Det er mange år siden at jeg har haft et rigtigt kælenavn, men blev engang kun kaldt Lotte af mine forældre.
Yndlingsfilm:
Tough one! Der er jo så sindssygt mange gode film derude og tror efterhånden jeg har set de fleste af dem, men skal jeg absolut fremhæve nogle, må det være "True Romance", "Gone with the wind", "The color purple", "Whats eating Gilbert Grape"...
Yndlingsbog:
Den historie der har gjort allermest indtryk på mig nogensinde er Kafkas "Forvandlingen", men har ikke rigtigt nogen yndlings
bog
som sådan
Yndlingssanger/sangerinde
: Erykah Badu, Bob Marley, David Bowie og Jack White
Yndlingsband:
Ikke nogen bestemt - afhænger af humøret
Yndlings tv-serie:
Twin Peaks og Californication
Yndlingsmad:
Efter humør og årstid alt lige fra tarteletter, bøffer og nye kartofler til curry-retter, kylling satay og hjemmelavede forårsruller
Yndlingsblog:
De fleste af dem på listen... Come on, kan jo ikke bare vælge en!!!!
Yndlingsskuespiller/skuespillerinde
: Kate Winslet for hendes talent, skønhed og integritet, Johnny Depp for hans mange forskelligtartede roller og brune øjne og Pacino og De Niro for deres coolness...
Yndlingsmusik
: Endnu en svær en... Lytter til rigtigt meget forskelligt, både gammelt og nyt, men lige nu er det Fallulah der roterer i Ipod`en.
crush/flamme
: Er det her jeg skulle skrive min kæreste gennem snart 10 år??
Yndlingsårstid:
Forår og efterår. Forår, fordi der bare ikke er noget bedre efter en lang kold vinter og efterår fordi det er så smukt!
Yndlingsfrugt:
Banan! Fantastisk frugt, der både kan spises au naturel og derudover bages, steges og blendes - helt uden at miste sin charme!
Yndlingsfarve:
Navyblå og bordeaux
Tøjstil:
Hmmmm... Lidt svært at skulle definere sin egen stil, især hvis man ikke rigtig har en!?! Jeg elsker fortsat gamacher, alt oversize, blomstrede kjoler, læder, plateau og Converse... Ejer til gengæld ikke et eneste par jeans! Og alt for få flade sko.
Stilikon
: Alle de cool tøser ude på gaden!
Forbillede
: Pippi Langstrømpe, he he!
Fremtidsdrøm
: At min familie er glade, sunde og raske og så vil jeg ikke takke nej til egen have, veranda og badekar!
Jeg sender den videre til alle der vil lege med!