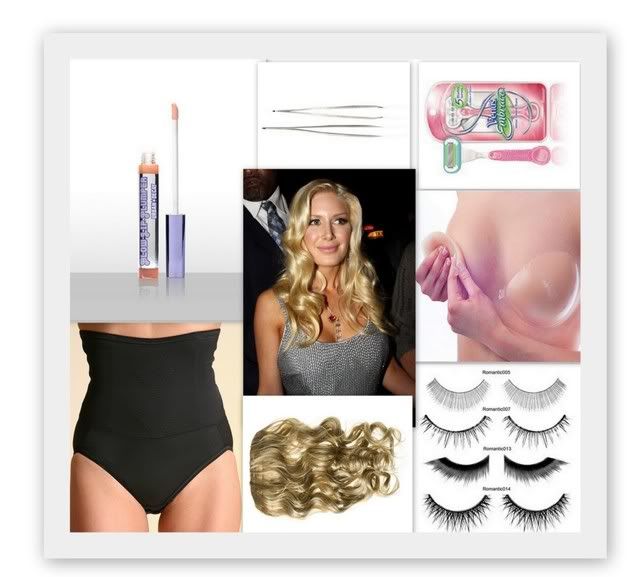 Gad vide, om de der mænd egentlig ved, hvor mange gruelige ting vi kvinder må gå igennem for at se lækre ud for dem? Hvis det da vel at mærke er deres beundring der søges, og ikke de andre kvinder vi i virkeligheden forsøger at intimidere? Måske begge dele? For et eller andet motiv må der vel være? Det kan vel ikke passe, at vi gør alt det her udelukkende for vores eget velbefindende?
Vi plukker, vokser, klipper, farver, afbleger, limer, peeler, barberer, strammer ind, strammer op og smører på - ud i ét væk.
Og hvor nogle af kroppens dele helst skal have så meget hår som muligt - skal andre områder omvendt helst have så lidt hår som muligt. Og er det ikke nok, kan man da lige nuppe en tandblegning og botox i frokostpausen, og i øvrigt lige få suget de lidt for kedelige minder væk, som vidner om alt for megen børnefødsel, inaktivitet, madglæde og drinks i hyggeligt selskab... Og hvor er det egentlig "fedt", at man så kan genbruge fedtet og få det pumpet ind andre steder, hvor der måske omvendt mangler lidt fedt. Såååå smart! Og håret og fedtet har da også bare at fordele sig de rigtige steder, ellers skal vi komme efter det, skal vi, ja vi skal så! Og er det heller ikke nok, kan man bare gå linen helt ud og nuppe hele pakken. Altså hvis man har kassen til det. Se bare på Heidi Montag.
Det pudsige er, at vi ofte lever i sådan en forestilling om, at vi er så vældigt frigjorte - ihvertfald i forhold til visse andre kvinder, som har "valgt" at dække deres krop, hår og måske endda også dele af ansigtet... Vi gyser i fryd over, at vi er så meget mere frie og uafhængige og dermed bestemmer over vore egne kroppe, lyster og udtryksmåder. Ingen mand skal ihvertfald bestemme over os, men altså pyyha! Nogen gange kunne det fandme bare være rart at være fri for alt det skidt, flytte til Femø, gro skæg og være pisse ligeglad med hele den der industri, som konstant fortæller os, hvordan vi kan blive mere lækre, rene, glatte, hårfri og velduftende. Men apropos kvindelig maintenance, så trænger jeg altså virkelig til en klipning:)