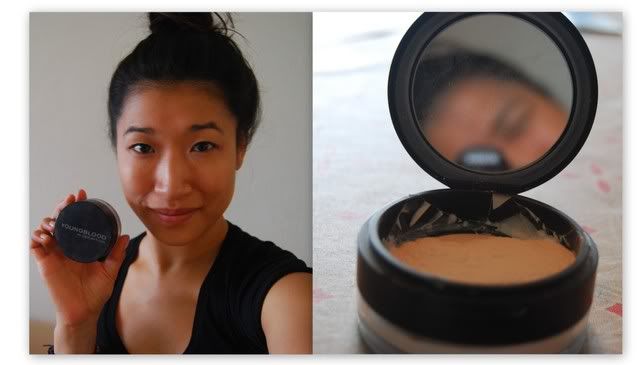 Jeg har nu haft fornøjelsen af den her pudder igennem længere tid og vil da lige smide nogle ord om den. Det er et relativt nyt produkt fra Youngblood og de af jer der kender det mærke, ved at deres natural loose mineral foundation er temmelig fantastisk. Selv har jeg brugt den fast i ca 3-4 år og jeg har ikke tænkt mig at skifte mærke!
Nu bliver jeg nødt til lige først at skrive, at jeg normalt ikke bruger pudder (altså udover den alm. loose mineral) og jeg har faktisk aldrig ejet en før, hvilket gør, at jeg heller ikke kan sammenligne med andre lignende produkter. Det eneste jeg kan sige lidt om, er nok om den efter min mening lever op til det som den "lover". Derudover er jeg jo selvfølgelig heller ingen makeup ekspert, så som med alt andet på den her blog, skal min beskrivelse ikke tages alt for alvorligt! Det, jeg er mest interesseret i, er egentlig at nå frem til en konklusion omkring, hvorvidt den er værd at kaste 415 kr efter.... ! Det skal lige tilføjes, at jeg selvfølgelig selv har betalt for den, den er dog købt over nettet til en besparelse af ca 150 kr
Hi-def pudderen beskrives som følger:
"
Get camera-ready skin with Youngblood's new Hi-Definition Hydrating Mineral Perfecting Powder. This multi-tasking product hydrates and refreshes skin, locking in moisture while absorbing oil and mattifying shine. It's a high-performance, sheer powder that expertly diffuses imperfections for a flawless finish. If you're excessively oily or live in a high-humidity area, you will love how it keeps your makeup fresh and matte for hours. If you have ruddy skin, this powder is perfect for you; it's infused with licorice root extract, which calms and conceals redness. With Youngblood's Hi-Definition Hydrating Mineral Perfecting Powder, you truly can have a complexion so flawless, it almost looks airbrushed
."
Pudderen er desuden både "
paraben free, cruelty free og talc free
". Den store forskel på denne her og andre puddere skulle dermed være at den ikke indeholder talkum, som ellers ofte er hovedingrediensen i de fleste puddere. Det skulle betyde, at huden ikke "udtørres" i somme grad som ved almindelige puddere, samtidigt med at den alligevel virker matterende, som vel er pudderens "hovedopgave".
Jeg synes, at den matterer i mild grad, dog ikke så meget som den alm. mineralske pudder, idet den efterlader huden med lidt shine, som jo kan være lækkert nok, hvis det er det man er ude efter. Men hvis man mest er ude efter en matterende effekt, synes jeg ikke den gør det helt godt nok. Jeg prøvede den sommeren over og det der med, at den skulle virke i mange timer og modvirke et svedende ansigt, hmmmm, det ved jeg nu ikke helt. Måske er det bare mig, der har et ekstremt svedigt fjæs, men synes ikke effekten holdt i lang tid. Den matterende effekt forsvandt hurtigt i mit tilfælde, hvilket jo ikke lever helt op til ordene om at den netop skulle være god i et "
high humidity area
", hvilket man vel godt kan beskrive en typisk dansk sommer som. Synes den gled af mit ansigt på præcist samme vis som alt andet sminke generelt gør om sommeren...
At den derudover skulle kunne lægge en dæmper på den der uklædelige rødmen, kan jeg ikke rigtigt vurdere endnu, idet det mest er om vinteren, at jeg får lidt rødmen på kinderne. Og når jeg drikker vel at mærke. Forsøgte derfor at vurdere, om den dæmpede den der alkohol-relaterede-rødmen, men det gik desværre lidt i vasken, da jeg efter indtagelse af genstandene ikke rigtigt længere var i stand til at vurdere noget som helst - sorry!
Endte jeg så op med en
flawless finish
? Det ved jeg ikke helt! Synes det er vildt svært at vurdere, kan jo godt se, at den matterer huden uden at man ligner en pudderdåse og det er altså et stort plus i min bog. På billedet ovenfor har jeg kun pudderen på og den gør da ens hud sådan lidt mere ensartet i det, men altså, det har jeg jo i forvejen den almindelige YB loose mineral powder til....! Og det med et bedre resultat.
Alt i alt vil jeg nok ikke købe den igen. Ikke fordi den er dårlig, for dens styrke er vel at den matterer lidt samtidigt med at den bevarer lidt "liv" i huden, men personligt foretrækker jeg nok den alm. YB. Og til prisen synes jeg desværre ikke, at den er det værd. Derudover er det et evigt irritationsmoment at YB ikke laver en ordentlig dispenser-ting, så man ikke risikerer pudder-helvede ud over hele tasken, hvilket selvfølgelig også skete her. (ligesom det desværre også er tilfældet med den almindelige løse mineralpudder) Det er ret ærgerligt, for man risikerer en masse spild af det dyre pulver og så er det bare ikke særligt lækkert! Kom nu YB lav en ordentlig dåse evt. med et vrid ligesom Smashbox, så man kun får det ud man skal bruge ad gangen!
Men altså, skal I have jer en ny pudder, så investér hellere i Youngbloods almindelige mineralske puddere, der både fungerer som concealer, foundation og pudder. Se det er et sandt vidunder - og multiprodukt! Amen!
PS: Min blog opfører sig underligt, idet jeg har svært ved at få lov at svare på jeres kommentarer. Blogger meddeler simpelthen at jeg ikke er logget ind, selvom jeg ER logget ind og så skal jeg ud i rediger indlæg hver gang for at kunne kommentere! Ved ikke hvad der sker med den, men det er ihvertfald derfor at det går lidt langsomt med at svare på kommentarer. Derudover har vi et sindssygt ustabilt net for tiden, så det gør også at jeg ikke altid lige kan komme til at blogge, når det lige passer mig... :(