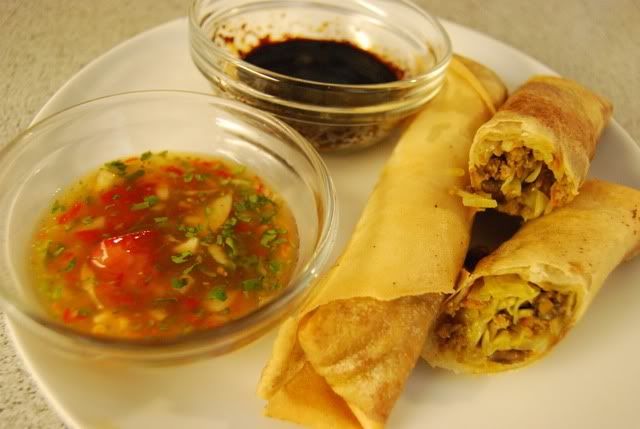 Mit billede kan måske ikke hamle op med alverdens delikate billeder af sushi, men jeg siger jer, at det smager godt det her! Hvis sushi er den elegante og sofistikerede kvinde er forårsrullen hendes umiddelbart grimme lillesøster, som alligevel har så meget mere at byde på end hvad øjet først skuer....
Hjemmelavede forårsruller kan til enhver tid slå Daloons af banen og man behøver heller ikke have særlige asiatiske evner for at kunne fremtrylle sådan nogle basser. Selv havde jeg et par ærkejydske forældre, hvor den mest stod på kød og kartofler, så glem alt om den romantiske forestilling om familieopskriften, der er gået i arv fra mor til datter igennem generationer. Jeg har selv måttet eksperimentere mig frem til en variant som jeg/vi kan lide her i huset og synes lidt, at det er sådan man gør. Det er så måske heller ikke særligt autentisk, men hul i det, hvis det smager godt! Man finder det fyld, der passer en bedst, får fat i den der færdiglavede forårsrulledej og så er det faktisk mere end nemt ;)
Fyldet i de her består af hakket oksekød og hvidkål som jeg har stegt let i karry, chili og hvidløg. Tilsæt sukker og fishsauce. Kødet/kålen køles af og blandes derefter med friske champignons, bønnespirer og gulerødder, hvorefter det er klar til at blive fyldt i rullerne. Til rullerne skal man helst have en ordentlig røvfuld salat, så man ikke får friture-overdosis og så er vi også ret glade for to forskellige dips, hvoraf den ene består af sød chilisauce med frisk koriander, tomat og løg og den anden af soya og ingefær.