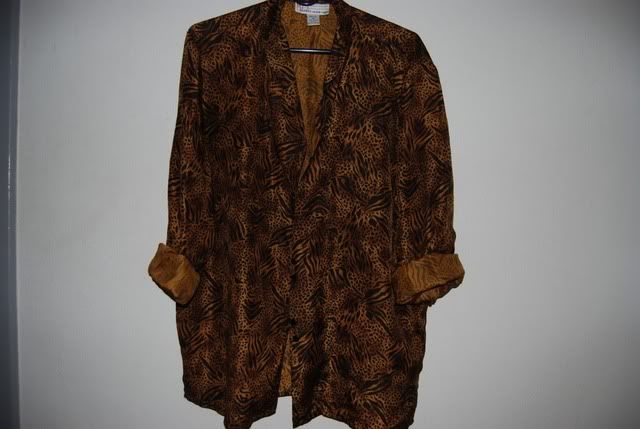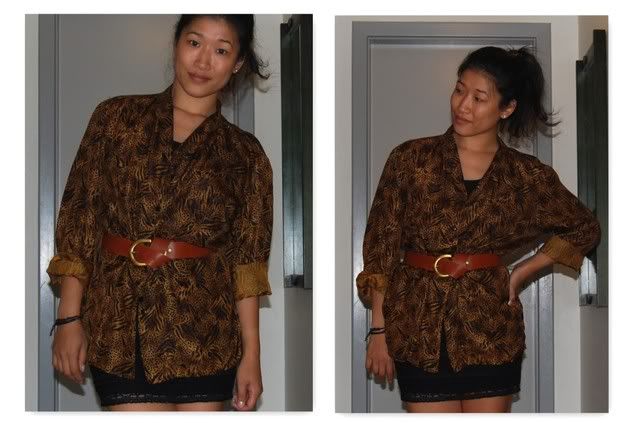 Jeg har købt denne her silkeskjorte over ebay for nogle dage siden. Frygtede lidt, at det var en natskjorte der dukkede op og kan da heller ikke just afvise, at den har været benyttet som en sådan...! Den er jo egentlig temmelig grim og over the top, sådan lidt Cruella de Ville-agtig...Men måske er den lige præcist så grim, at jeg rent faktisk kan lide den!? Ville nok ikke en anden gang bruge den med den farve bælte, men det var lige den der lå og flød og billedet skulle tages i en fart.
Jeg ved, at jeg ikke blogger nær så meget i øjeblikket som sædvanligt, men det er der jo så til gengæld sindssygt mange andre der gør! Hvis I kender en blog, som I tror jeg ville kunne lide, må I gerne nævne den, savner lidt nogle nye blogs....
I øvrigt TUSIND tak for de mange forslag til serier! Der var en del af dem I nævnte, som jeg har set - og elsket - deriblandt Fangerne fra Oz og Twin Peaks. Jeg skal helt sikkert se nærmere på True blood, The Wire og House. Og så skal jeg også se Six feet under og Sopranos. Det har jeg ligesom skullet i flere år, så mon ikke det også er tid?