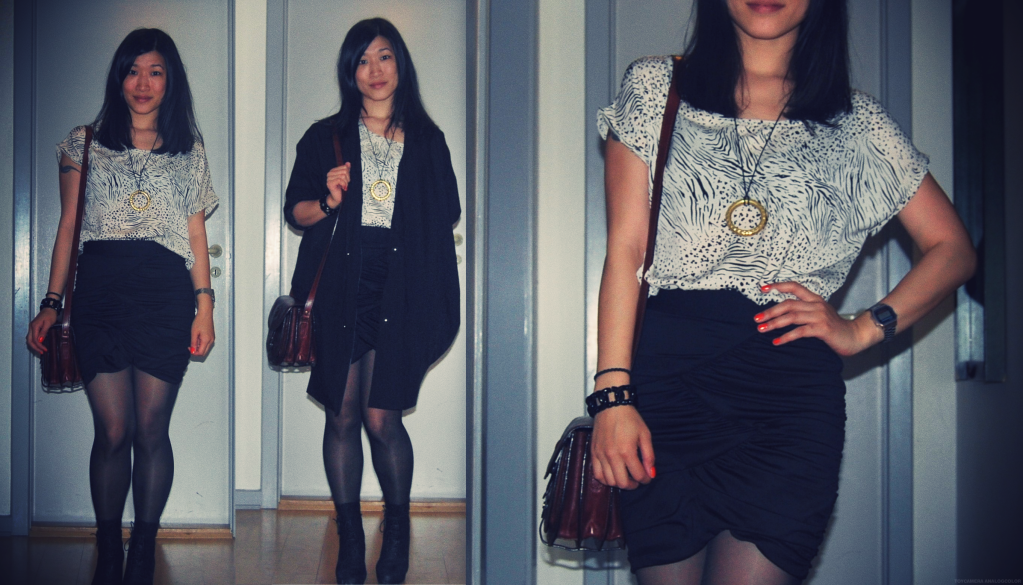 I lørdags før vi skulle til konfirmation, huskede jeg for en gangs skyld at få knipset et par meget hurtige billeder før vi tog afsted, hvilket jeg normalt ikke lige prioriterer, da det som regel er lidt af en halv-stressende seance at skulle ud af døren. Til en bestemt tid. Og på samme tid. Alle fire.
Blusen er fra Silence + Noise og købt på udsalg i Urban Outfitters, KBH i sidste måned og nederdelen er fra H&M og den er jeg rigtigt glad for og faktisk så glad, at jeg ville ønske at jeg havde købt to af dem! Den kostede kun 129 kr, og stoffet er desværre (nok prisen taget i betragtning) af sådan en art, som nok ikke bliver ved med at være lige pæn, så skulle da godt nok have købt et par stykker...
Og så kan det måske ses, at jeg er blevet lidt kortere i toppen. Er dog åbenbart for meget en kylling til at få det klippet i en kort page, så det eneste nye er nok bare, at jeg for en gangs skyld ikke fik det klippet i "etager". I stedet for, er det bare klippet lige over, hvilket giver en lidt mere glat effekt. På billederne har jeg dog haft gang i et glattejern, da mit hår faktisk slet ikke er så glat alligevel. Det har "fald" som det hedder sig på frisør-sprog. Selv synes jeg nok bare at det er underligt og for det meste ret umedgørligt...