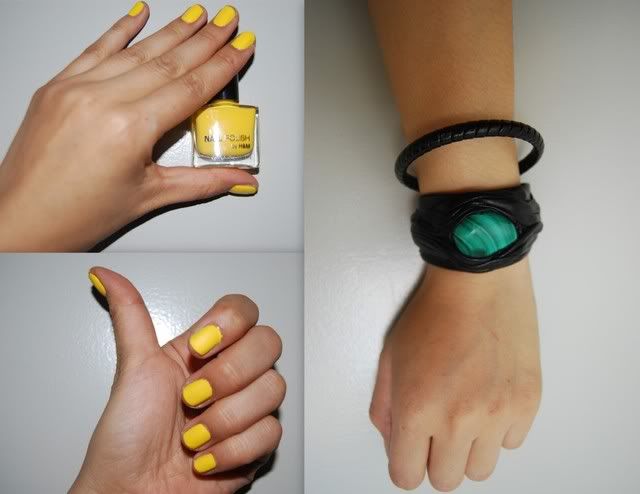 Plejer at have orange negle om sommeren (står så pænt til brune hænder!), men i år vil jeg måske også have gule negle. Som ikke har noget med nikotin at gøre vel at mærke:)
Den gule lak her er fra H&M til 40 kr.
Jeg har nu prøvet deres lakker nogle gange og efter min mening er de ikke særligt gode. For det første har ihvertfald jeg, svært ved at lægge lakken pænt på, den dækker ikke ordentligt, klatter og tager desuden, hvad der føles som en evighed om at tørre. Måske jeg gør noget forkert og tålmodigheden er heller ikke altid stor nok til at vente på at lakken tørrer, men sammenlignet med andre budgetlakker som Depend og Rimmel, ja så synes jeg bare ikke at den er god nok. Der er ihvertfald for mange irritationsmomenter ved dem, til at jeg er blevet fan, så tommelfingeren burde faktisk have vendt nedad på billedet ;)
Fandt lige det her gamle armbånd med en grøn sten i. Den havde jeg glemt alt om. Det var vist en dame i Århus, der laver dem, for mindes at jeg købte den på et marked engang. Synes stadig den er ret fin.