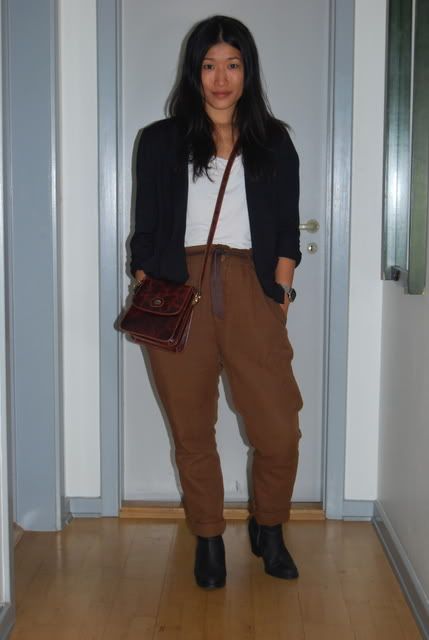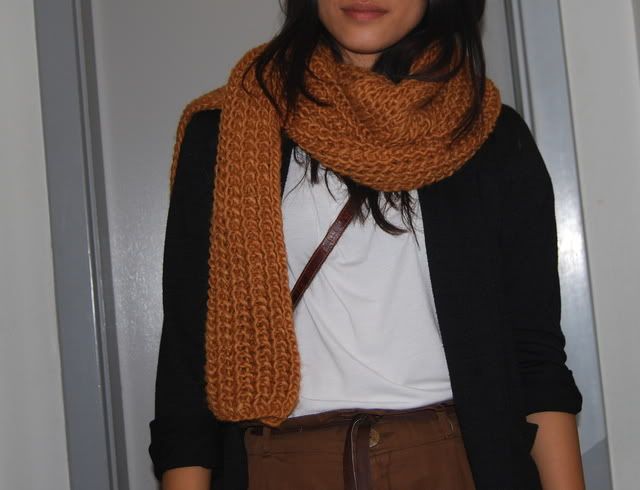 Sidste køb fra Zara som nu er lukket og slukket i Århus. Desværre. Fandt de brune chinos i sidste uge og havde kun haft dem på et par timer da de revnede i buksebenet. Suk. Jeg skal vist have en symaskine igen, for gider ikke rigtigt betale en bondegård hver gang der er gået en syning i et eller andet...
I går på Zaras lukkedag købte jeg hele 3 tørklæder. Nuppede 2 i karrygult og 1 i råhvid da de kun kostede en hund pr. stk. Jeg vil enten bruge begge gule tørklæder på én gang eller også bare have en i reserve til når den første afgår ved døden. Hvilket som regel finder sted i kraft af, at jeg glemmer det et eller andet sted... Indtil videre har jeg været rimelig god til at bruge mine "tøjpenge" på tøj, der rent faktisk supplerer min garderobe og ikke bare en hel masse af det samme, som jeg tit er tilbøjelig til at falde for.
Jeg har således i den seneste tid investeret i nogle ting som jeg ihvertfald har bildt mig selv ind ville supplere min garderobe rigtigt godt:
- et par mørkeblå jeans, tjek!
- et par lysebrune wedges, tjek!
- en oversize gul cardigan, tjek!
- tørklæder til vinter, tjek!
Så nu "mangler" jeg kun følgende dele, som flytter ind i løbet af et par måneder når jeg har fundet det helt rigtige:
- et par militærinspirerede støvler som skal afløse dem fra sidste år, som ikke har det særligt godt mere
- et par flade brune støvler
- en oversize brun/khakifarvet cardigan
- en hat
Og så tror jeg faktisk, at jeg har min efterårs/vintergarderobe i hus og så behøver jeg jo ikke shoppe resten af året -som jo så også kun drejer sig om max 2 mdr. så mere beundringsværdigt er det nok heller ikke, he he...